40-Kilo Weight Loss Transformation
Just two years ago, Tricia "hated" how she looked in photos and wasn't happy with how her clothes felt on her. She and her boyfriend were struggling to get by, and they constantly fell back to unhealthy eating habits. She knew she wanted to get her health in order, and she happened to stumble upon an online community that changed everything. Now, Tricia is down 40 kilos, feels stronger and happier than ever, and is planning on doing a triathlon next year! Here's more on her amazing story.
POPSUGAR: When did you start your weight-loss journey? What made you decide to?
Tricia Shimimura: In December 2015, I was feeling stuck. I hated how my clothes felt on me. I hated every photo I took. I hated that I always had to pray that stores carried my size. On top of all of that, I felt like my boyfriend and I were just barely able to get by financially. I still vividly remember going out for pizza (and paying $50 each time) twice in one week because we didn't have any better plans for dinner.
During the holidays, I started to look online for a healthy eating program. Somehow, I stumbled upon Fit Girls Guide. With the promise of a healthy eating plan plus an exercise tutorial, I thought that this would be a great way to restart our systems. What I didn't realise was that this program is not a "program" at all. It's a guide to living a healthy lifestyle, both inside and out. It's a mindset that takes out the body negativity and teaches you how to love yourself at every weight and every phase of your life.
PS: What was your starting weight?
TS: I weighed around 101 kilos.
PS: How much weight have you lost so far?
TS: After my first 28 days, I had lost 4 kilos. In the third month I lost 3 kilos. Each month I was astounded by how my face, arms, and legs were changing. In total, I fluctuate between 38 and 40 kilos lost.
PS: How did you do it? Did you do a specific workout type or schedule?
TS: I followed the Fit Girls Guide Jumpstart program for approximately five to six months, before shifting over to the Fit Girls Guide Fitkini program for another six to eight months. I have also done the Fit Girls Guide three-month Bootcamp program. I'm now back to Fitkini because I love the workouts.
The exercises are circuit-based, although you can incorporate weights into some of the exercises and "extra credit" workouts. What I've always appreciated is that I can fit in an intensely challenging, sweaty, and heart-pounding workout within 45 minutes at the gym — and I never have to jump on a treadmill or cardio machine, which I generally find very boring.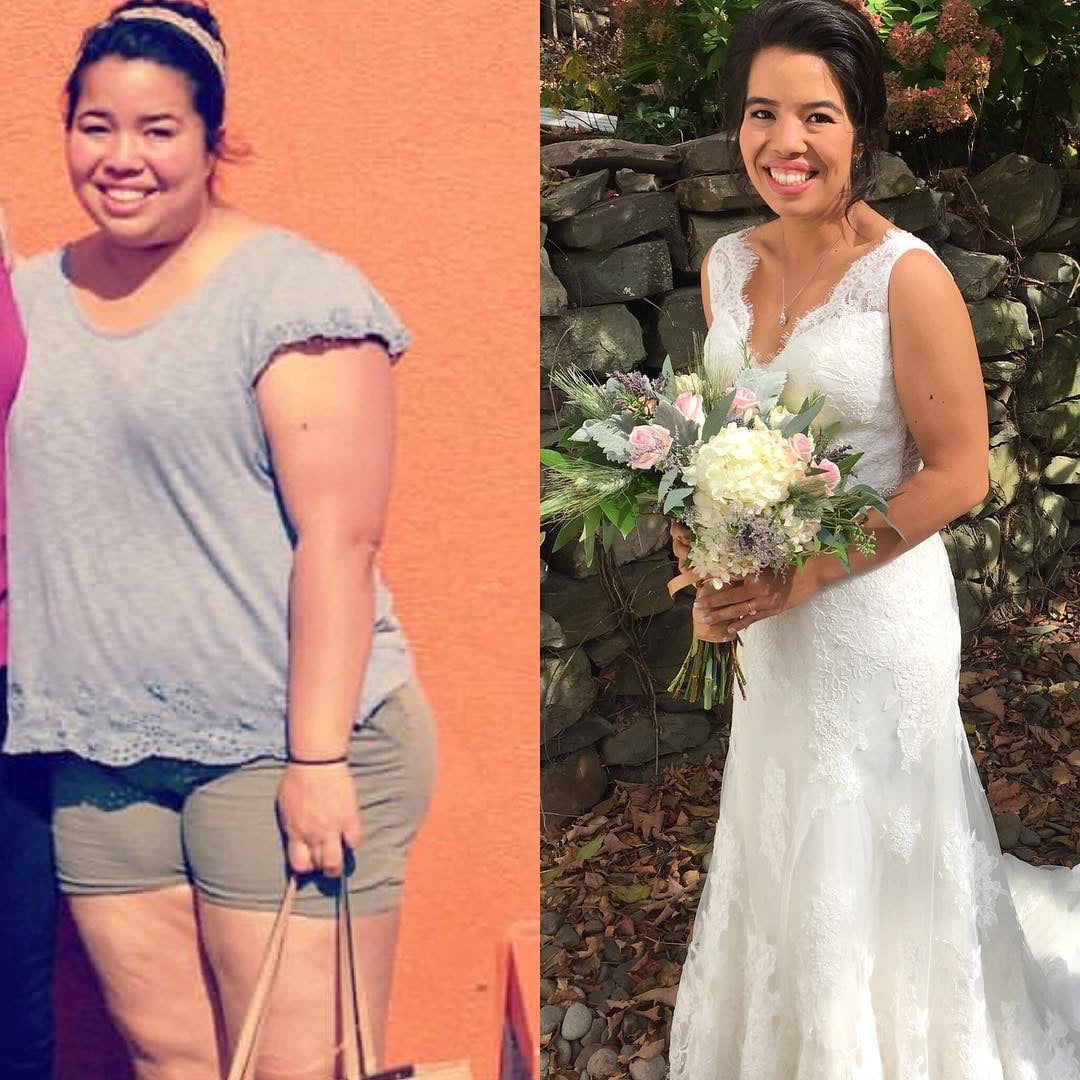 PS: What are some non-scale victories you've experienced?
TS: There are too many to count! I love all of the photos I take, I walk the four kilometers to my work every day, I no longer have early onset arthritis in my knees, and I was able to save for my wedding using the money I would have spent on going out to eat. I've also gone down from a size 16 or 18 to a size 2 or 4.
My now-husband and I have also picked up some adventurous new habits, like hiking, biking, 5K races, and next Summer, a triathlon!
PS: How do you stay motivated?
TS: On days when I don't feel particularly motivated to go to the gym, the Fit Girls Community is a great way to keep you accountable and support you no matter what. Fit Girls Guide does not demand perfection, and I try not to demand that of myself either.
PS: What does a typical day of eating look like for you?
TS: Breakfast is most likely overnight "fridge oats" that consist of almond milk, oats, yogurt, fruit, and a little bit of peanut butter and honey.
Lunch almost always involves a handful of kale, roasted vegetables, beans, hummus, some sort of protein like a veggie burger, plus a whole grain, like brown rice, faro, or quinoa. In total, lunch will be approximately 400 calories.
In order to feel full and stay around 400 calories, dinners tend to be high in vegetables, beans, and other proteins — and low in things like bread and pasta. Favourites recently have included roasted zucchinis stuffed with veggies, kale, and feta, with a side of brown rice and beans. Also, our version of shakshouka involves eggs baked in a spiced tomato and red pepper sauce with fresh herbs.
I will have between 150 and 250 calories of snacks before bed, usually in the form of dark chocolate (70 percent or higher), dried dates, or some almonds or cashews. We also really like Halo Top ice cream.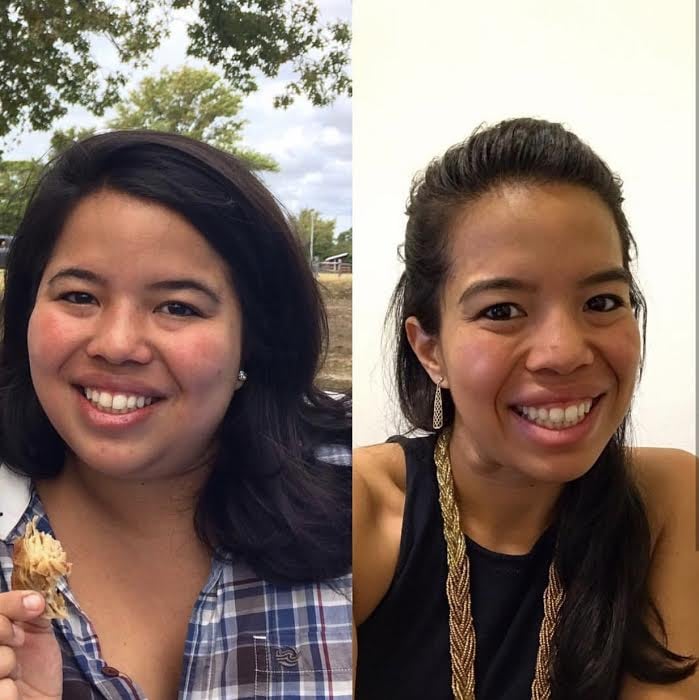 PS: Any advice or tips for people on their own journey?
TS: Don't go into anything with an "all or nothing" mentality. There will be good days and bad days. Forgive yourself, be kind to yourself, celebrate every bit of progress (even if progress means walking a little more than yesterday), drink lots of water, and sleep. We never get enough sleep and it makes everything easier.
PS: Anything else you want to share?
TS: Thanks to Fit Girls Guide, I've learned how to eat well, exercise effectively, and love myself in a healthy, sustainable way. I may have bad days, but my resolve will not change — I've found a lifestyle that works and now the only way to go is forward.
Image Source: Tricia Shimimura